Segmentation Conditions for Sequence Messages
Create a segment to filter audience members between messages in a sequence.
Conditions are requirements your audience must meet in order to receive a message from a sequence. If a member of the audience doesn't meet the conditions, they will not receive the message or any subsequent messages. They will exit the sequence.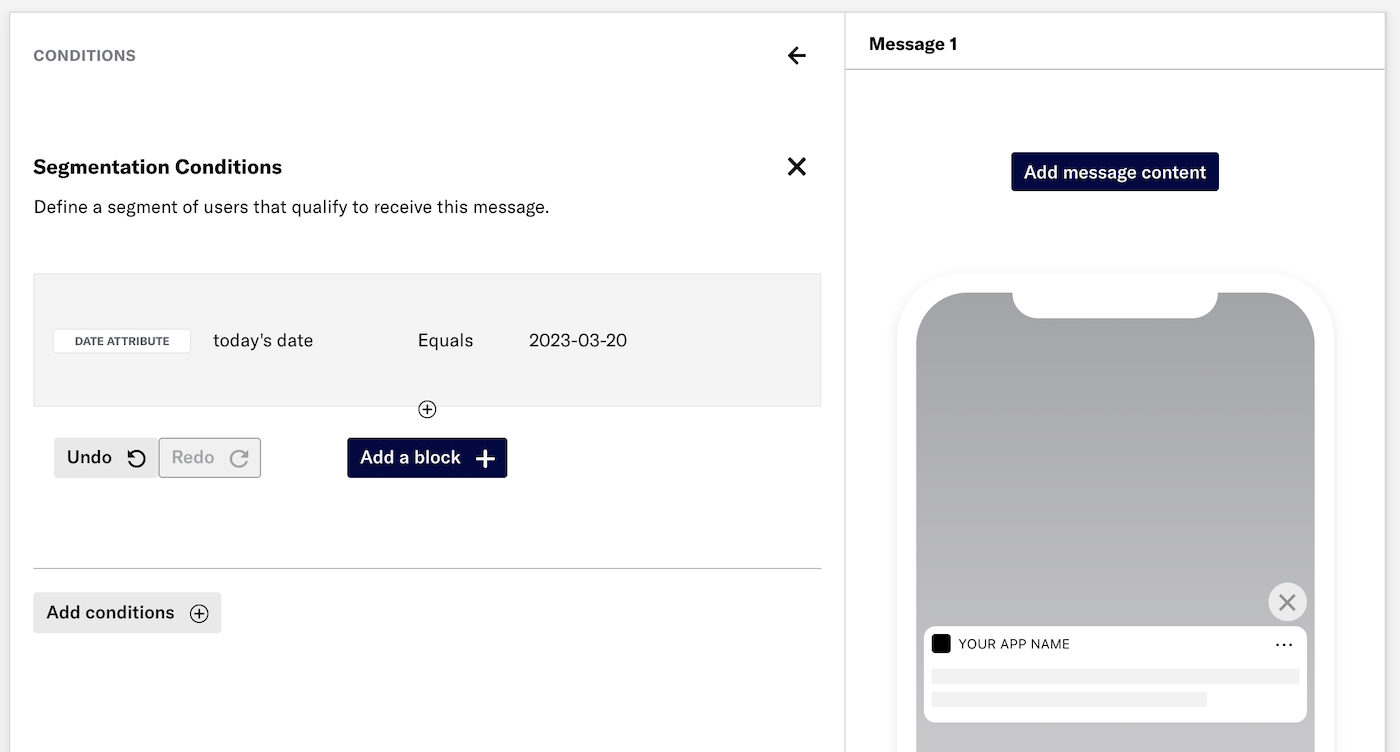 Now you can build or select a SegmentA grouping of audience members selected by unique or shared identifiers. Multiple identifiers can be combined within a segment. to use as a condition. You use the same procedure as in the Segment Builder. Segmentation data:
Attributes

Metadata that you can use for audience segmentation. Attributes differ from tags in that when evaluating users with attributes, Airship uses operators, e.g., equals, less than/greater than, contains, before/after, to determine whether or not to target a user. Supported attribute types are TEXT, NUMBER, and DATE.

Audience List

Messaging recipient groups based on either your own data or automatically-generated app user lifecycle information. You can use audience lists to target specific users.

— Uploaded, Lifecycle, and Subscription lists
AutogroupA default tag group. When devices are registered in Airship, they are automatically assigned a tag within the autogroup tag group; the tag is a numeric value of 1 to 100. Some uses for autogroup tags are creating a control group, and to randomly segment your audience. Autogroup must be enabled for your account — contact Support or your account manager.
Channel ID

An Airship-specific unique identifier used to address a channel instance, e.g., a smartphone, web browser, email address.

Channel Coordination

A group of strategies you can use to target users where they are most likely to receive your message.

— Last active, Priority channel, and User preference
Device Properties

Metadata representing the default attributes and property tags of a device, such as language and time zone settings, OS and browser versions, and notification opt-in status. Device properties are used for audience segmentation. The data used for the tags and attributes is collected automatically from the Airship SDKs, and are updated daily.

EventsEvents represent activities in the Airship system, as well as user behavior in your app or website. You can also send external activities (e.g., POS transactions) into the Airship system as events. Events power Airship data products and can be used in audience segments, as automation triggers, and for partner integrations.
Named User

A customer-provided identifier used for mapping multiple devices and channels to a specific individual.

NPS Category

A category based on the score a user submits in an NPS survey. Ratings 9 and 10 have category Promoter, 7 and 8 are Passive, and 6 or lower are Detractor. They are available in survey reporting and are also a text attribute assigned to a user.

NPS Score

The score (0-10) a user submits in an NPS survey. It is available in survey reporting and is also a number attribute assigned to a user.

Predicted to Churn status

Analyzes your audience for users that exhibit behaviors indicating they are likely to become inactive, and tags the users as High, Medium, or Low Risk.

Segment

A grouping of audience members selected by unique or shared identifiers. Multiple identifiers can be combined within a segment.
For new sequences, you will no longer see the TagMetadata that you can associate with channels or named users for audience segmentation. Generally, they are descriptive terms indicating user preferences or other categorizations, e.g., wine_enthusiast or weather_alerts_los_angeles. Tags are case-sensitive. condition since you can configure it in a Segmentation condition. However, you will still see it when editing a sequence where it was previously configured.
Documentation: