Alternative Installation Methods
Alternative methods for installing the SDK.
Carthage
Before you begin, ensure you have Carthage  installed.
Adding the SDK framework to your application
Verify Enable Modules and Link Frameworks Automatically are enabled in the project's Build Settings.
Follow Carthage's adding frameworks to an application  instructions to add frameworks to your application.
Specify the Airship iOS SDK in your cartfile:
github "urbanairship/ios-library"
Carthage builds against the Airship project will result in several framework build products. Follow the selecting frameworks section to select the correct frameworks for your use case.
Manual
Start by downloading and decompressing the latest version of the iOS SDK .
Inside the folder you should see a collection of XCFrameworks. Follow the selecting frameworks section to select the correct XCFrameworks for your use case.
Add an XCframework to your project
Open your project in Xcode.
Click on your project in the Project Navigator.
Select your target.
Make sure the General tab is selected.
Scroll down to "Frameworks, Libraries, and Embedded Content".
Drag in desired XCFrameworks from the downloaded SDK. It is wired up automatically as a dependency of your target.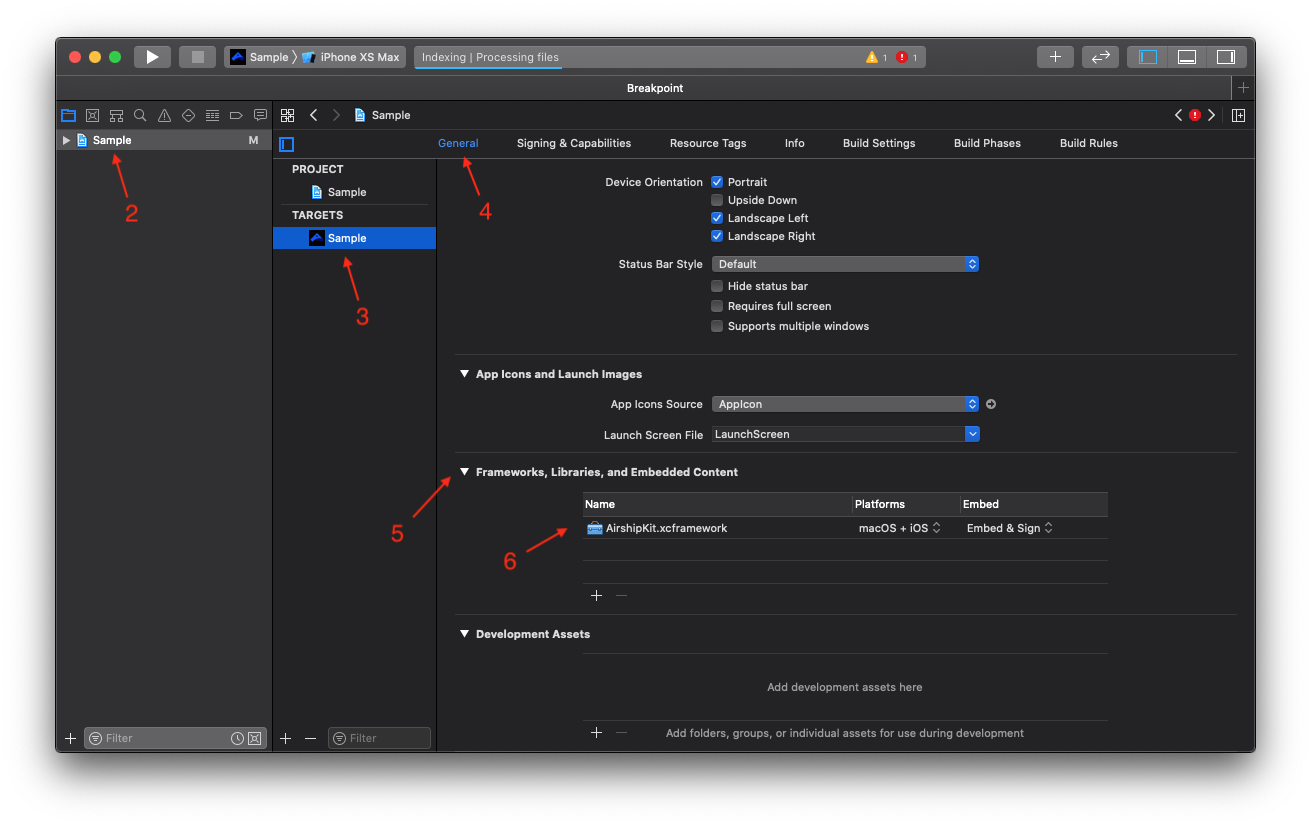 Verify Build Settings:
Enable Modules should be set to Yes

Link Frameworks Automatically should be set to Yes

Selecting frameworks
Installation steps that require integrating frameworks or XCFrameworks necessitate choosing the correct standalone framework(s) that match the needs of the desired use case.
The available frameworks include:
AirshipBasement : Required by AirshipCore.
AirshipCore : Push messaging features including channels, tags, named user and default actions
AirshipMessageCenter : Message center
AirshipAutomation : Automation and in-app messaging
AirshipExtendedActions : Extended actions including the rate app action
AirshipLocation : Location including geofencing and beacons
AirshipPreferenceCenter : Preference Center
Extension frameworks:
AirshipNotificationContentExtension : Content extension features
AirshipNotificationServiceExtension : Service extension features
The primary Airship framework includes the standard feature set and is advisable for most use cases. Feature frameworks may be used independently and in combination with one another when only a particular selection of functionality is desired. Extension frameworks are necessary for implementing the content and service extensions.
Feedback
Was this page helpful?