Composer navigation
A composer is a tool for creating messages using the dashboard.
You open a composer by clicking at the top of the dashboard and making a selection.
After you open a composer, the layout is generally the same for each. This image shows the Content step in the Message composer: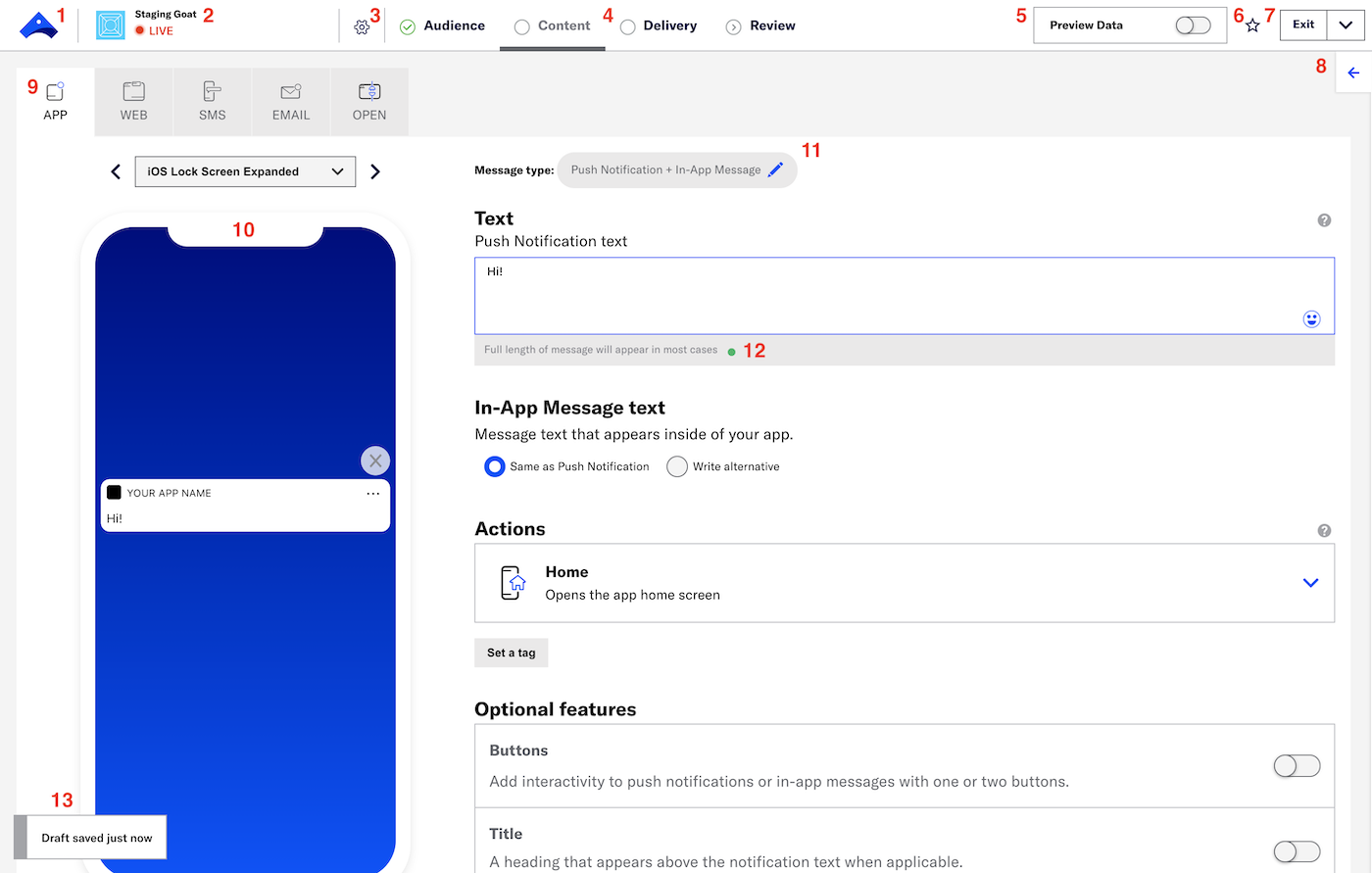 Leave the project and return to your Airship dashboardThe Airship web interface located at go.airship.com or go.airship.eu. .

The icon, name, and environment type for your current project.

Name a message or flag a message as a test. In a sequence, the sequence name and message position appear to the right of .

Progress through the composer steps.

In the Message, Automation, A/B Test, and Sequence composers completed steps are green and display , showing you are ready to proceed. appears if you need to fix anything. Click a step name to move ahead or to go back and edit.

In the In-App Automation, Scene, and Survey composers each step is indicated as a dot. Hover over a dot to see its step name appear as tooltip. Return to any previous step by clicking its dot. Click to continue to the next step — it will be greyed out and inactive until the step's minimum requirements are fulfilled. In the final step, click Finish.

Create a Composer FavoriteReusable messages with preset settings and content. You can use Composer Favorites instead of recreating commonly used messages. . Available in the Message composer only.

Exit the composer or perform other actions, like reverting an edit.

When you click Exit while composing a message, your message is saved as a draft and you will go automatically go to Messages OverviewA view of all your project's messages, with options for editing their settings, content, status, and more. . For messages in a sequence, you will go to the Sequence ManagerA preview of the messages in a sequence, with options for editing and testing, and for running experiments. instead of Messages Overview.

If composing a new message in a sequence, your message is saved as a draft.
If editing a message in a sequence, your changes are saved.

Click   for more options:

Delete: Delete a message, automation, in-app automation, A/B test, or Composer Favorite.
Revert: Cancel changes to an edited message, automation, A/B test, sequence, or Composer Favorite.
Save changes: Save changes to an edited Composer Favorite.
Make a copy…: Make a copy of a Composer Favorite.

In the sequence manager, Exit   has options:

Click to expose Help & Summary.

The Help tab displays information relevant to the current step. Click

in the composer and the Help tab will open to that topic.
The Summary tab lists your message's current content and configuration.

When you select multiple channels for a message, you will configure the content on a separate tab for each. Click to see the Content step for each channel.

App

Web

Email

SMS

Open

On the Content and Review steps, the device preview updates with your changes. Click the arrows to page through the various device previews. The channel and display type dynamically update in the dropdown menu above. You can also select a preview directly from the dropdown menu. The preview for open channels is a table.

Select a different message type or TemplateReusable message content that saves you the trouble of having to rewrite a message. Templates support merge fields and other logic, letting you personalize the resulting messages. .

For App and Web, a color-coded indicator appears below the text box, warning when your message may be truncated on some devices. For SMS, a counter appears above the text box, showing the total number of characters and how many individual SMS messages will be sent.

Best practice is to make your message as brief as possible, though some customers find success when a message truncates, teasing their audience to learn more.

Your drafts are saved automatically. Go to your draft messages in Messages » Messages Overview » Drafts.
Feedback
Was this page helpful?